Kortrijk's Beguinage: Towards the interpretation of a UNESCO World Heritage Site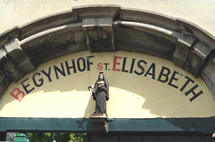 Kortrijk's Beguinage (beguine convent) was added to UNESCO's World Heritage List on 2 December 1998, along with 12 other, representative, Flemish beguinages. The inscription gave the Flemish beguinages international recognition as world heritage sites because of their 'outstanding universal value'. This worldwide recognition supposes that efforts be made to make these sites more easily accessible for the general public. To do so, the Ename Center works closely with the owner of the beguinage in Kortrijk, which is the local Centre for Social Welfare (OCMW).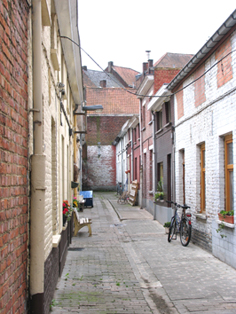 Former factory buildings, typical alleys, Flanders' first social houses, mansions and managers' dwellings with an extremely varied and sometimes even extravagant architecture, exceptional Art Deco countryhouses… If you wander around Ronse, you simply cannot miss them! And you will also understand the city's major challenge: how can it continue to develop without destroying its unique past? Together with the city of Ronse, the Ename Center is working on a project in order to define a high-quality heritage policy around this intricate matter, the main focus being on local involvement and awareness-raising.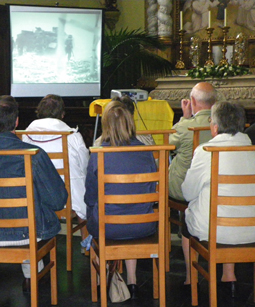 In May 1940 – at the beginning of the Second World War – the small town of Vinkt in the Belgian province of East-Flanders became the scene of a most gruesome event. During the violent combat in Vinkt and neighboring Meigem, many people on both sides of the front were killed. In the resulting chaos and confusion, the German soldiers vented their rage on the civilian population. In the space of just a few days, 140 innocent civilians perished.
On the occasion of Heritage Day on 13 September last, the Ename Center unfolded the plans to establish a 'Centre for Reflection' that will open its doors next year.


Exchange between The University of Castilla-La Mancha and The Ename Center
As a result of on-going contacts between The Ename Center and the Spanish Research Group on Materiality, Archaeology and Heritage (MAP) of the University of Castilla-La Mancha (Spain), one of MAP's researchers, Victor M. Lopez-Menchero, got the opportunity to come to Ename for a 3-month stay. And he sure is enjoying the experience: 'It is a great honour to share knowledge with other European researchers in one of the world's most prestigious research centres in Public Archaeology and Heritage Presentation.'